The trend of upcycling items found at a yard sale or flea market continues in the High Desert and all across the country. One of the antique and collectible shops of the High Desert, Smoketree Junction, carries unique yet practical collectibles that have been repurposed. Check out some of these fun up-cycled creations:
Each of the clocks are listed at $23.00 on our Etsy shop.
Isn't that the coolest toilet paper holder ever?
Love this speed limit table.
Another of Mr. Fun's creations that sold at Smoketree Junction recently.
These were created by Mr. Fun, my other half of 33 years. You can find other things up-cycled by him at Smoketree Junction.
Some people enjoy making up-cycled or repurposed creations from yard sale or flea market finds. But others don't have the time, know-how, or the want to for coming up with ideas or making things. If you're in one of these groups, look up Smoketree Junction on Facebook and browse through their photos of new items  displayed in the vendors' booths. Better yet, hop in the car and drive over there. Just be sure to have time to browse.
Since the holidays are coming up soon, spruce up the yard or your home entryway with one of these pretty decorative Mosaic bowling balls: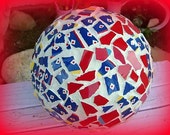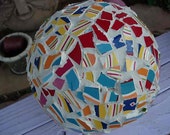 The mosaic balls can be placed on an urn inside or on a metal rod placed in the ground. Shine a light on it, and watch it sparkle. I love mine that Mr. fun made me with mirrors and a red A.
Speaking of up-cycled ideas, want to do something different with an old stump in your yard? I fell in love with one shown on This Old House website.
Now take a tour of your own yard and home, and see what ideas you can come up with to up-cycle. Sell it on eBay or Etsy. Or just create it and enjoy in your own home and yard. Maybe it's not the extra cash flow you need but simple enjoyment out of creating something lovely that makes you smile.